Overrun, one of the stretch goals (Introductory Adventure) from the Eclipse Phase Second Edition Kickstarter is now available! Backers, see this update for information about your downloads!
We spent a lot of time working on Overrun — because we love good adventures, and we know reading and running adventures is how many people learn how a game works. We\'ve broken out paragraphs of text to clearly call out when players could/should make rolls, when stress tests could happen, key information the GM shouldn\'t forget, and more. We\'re eager to hear what you think about Overrun and the updated adventure presentation!
Take a look at the PDF preview of Overrun (If you\'re a GM, not a player — don\'t read ahead!)
Print + PDF Pre-Orders!
We are opening direct pre-orders for Print + PDF combos of Overrun, and also for print versions of an upcoming expanded version of the EP2 Character Pack — a title for you to fold, spindle, and mutilate. We plan on sending both books to print by May 22nd and ship them to you in early June. The first fifty pre-orders will all get an Eclipse Phase art print!
Direct pre-orders are extra important right now, so we can order accurate print runs. For these two projects, we\'re working with a printer that we\'ve done some very solid test runs with and had great service from. The books will be printed on the inside covers to sneak some additional stuff in for you as well.
If you\'re purely digital, Overrun is also up on DriveThruRPG — and the EP2 Character Pack PDF is free to download!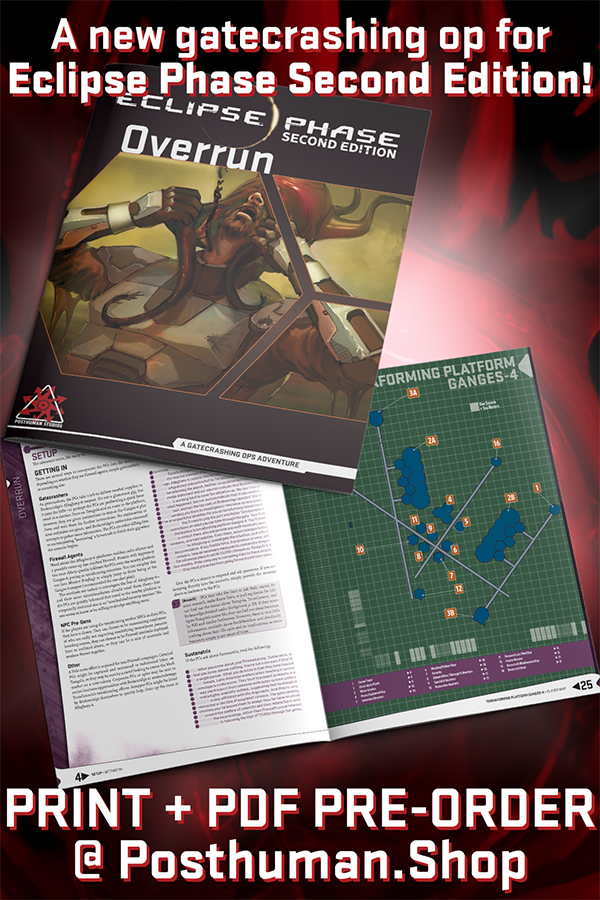 Coming Up
As always we have a bunch of projects in various stages of writing/development/production.
The expanded EP2 Character Pack PDF will be available soon — final layout and proofing TODO.
Development and layout updates to the Eclipse Phase Second Edition Quick-Start Rules.
Development and final layout on the EP2 Condensed Player\'s Guide (Kickstarter stretch goal)
Development and layout on Xenovore and Xenovore Fate (Kickstarter stretch goal)
That should keep us busy for a little bit! As always, feel free to get in touch with us at cs@posthumanstudios.com for customer support issues, and feedback@posthumanstudios.com for game-related stuff, or join our official discord!