The Character Options BackerKit is heading into the last few days, so now is the time to support this campaign and the future of Eclipse Phase. All backers already have access to the Character Options digital edition so you can start making new characters immediately. The book is finished and will be going to print shortly after the campaign closes so we plan to deliver books in the first quarter of 2024!
Character Options brings lifepath character creation to Second Edition, as well as updating and adding new morphs into the game, so you truly have a body for every possible situation or scene!
The campaign has fully-funded Character Options in hardcover, as well as an upgraded Morph Recognition Deck.
A lot of campaigns are loaded-up with stretch goals, but this one isn't. After we've produced Character Options and the Morph Recognition Deck, funds from this campaign will be used to reprint Eclipse Phase Second Edition in the glorious hardcover cloth bookmarked form you expect from us at Posthuman Studios.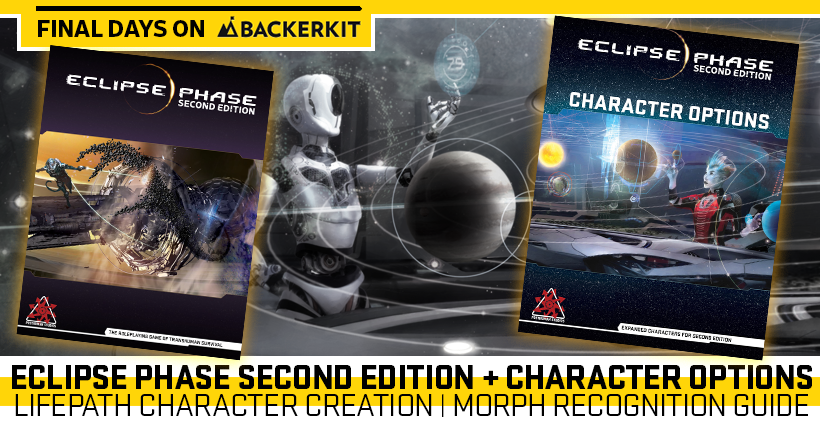 It's possible that we'll have to raise the print price on this reprint, so all supporters of this campaign that add Eclipse Phase Second Edition hardcover to their rewards will lock in the current price.
There's an easy backer level that includes both Character Options and Eclipse Phase Second Edition, add-ons for the Morph Recognition Deck, and also a bunch of merchandise — including the brand new Octomorph t-shirt.
Thank you for your support!